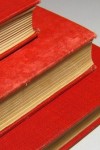 Posted on Jan 8, 2013 in
Blog
|
Comments Off

on E-Readers Versus Print? Not Necessarily
by Allison Morris. Are you a book person, or an e-reader? Here's some good news: you don't have to pick. Reading differs situationally, and we're lucky to have several mediums through which we can now buy and read books. While e-readers and e-books have exploded in popularity (e-book sales...
Posted on Dec 31, 2012 in
Blog
|
Comments Off

on What We Learned in 2012 – For a Happy 2013
Publishing Notes from the Lucky Bat Books Team We're approaching the end of a year, beginning of a new one, and what did we learn in 2012? What's going to matter in 2013? It takes a team—a highly professional and accomplished team—to create a successful Lucky Bat Books. When Cindie and I...