Editor, Book Marketer, Journalist, Writer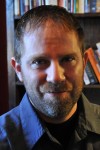 Michael J. Totten is a prize-winning author and award-winning journalist whose very first book, The Road to Fatima Gate, won the Washington Institute Book Prize. His novel, Resurrection, has been optioned for film.
His work has appeared in the New York Times, the Wall Street Journal, and The New Republic among numerous other publications, and he's a contributing editor at World Affairs and City Journal.
Michael loves everything about books—writing them, editing them, reading them, even looking at them—and enjoys the process of turning a manuscript into a beautifully published book almost as much as the author.
He's also adept at marketing everything from books to technology and is a veteran copy editor, line editor, content editor, paperback designer, e-book designer and conversion coder.
He once lived in Iowa City, Iowa, and even in Beirut, Lebanon, but he made it back home and lives now in Portland, Oregon, with his wife and two cats.