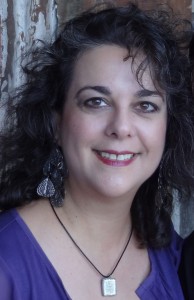 Dayle Dermatis has worked in nearly every facet of publishing: from writing to editing to design to printing.*
Dayle freelanced as an editor with Lucky Bat Books for several years before signing on as a Managing Editor. One project that tipped the scales was doing developmental editing on Dishrags to Dirtbags by Brooke Santina, and she's convinced all of her projects will be just as much fun—largely because she loves all aspects of publishing, including getting just as enthusiastic about a project as the author is.
On the writing front, an interviewer once said of Dayle, "She has so many aliases, you'd think she was a spy!" Writing in a variety of genres, on her own and with coauthors, she's sold several novels and more than a hundred short stories to date, and owns her own publishing company, Soul's Road Press. She's also been a full-time and freelance journalist.
In a former job as a production editor for a educational publisher, she oversaw the production of quarterly, bi-monthly, and monthly scholarly journals (primarily social sciences), ensuring copyediting, design, and proofreading were top quality. She also worked for the same company as a copyeditor and indexer. At a different educational publisher, she vetted and content edited a line of books on current world issues.
Although she's lived in Wales and traveled the world, Dayle grew up in upstate New York and now lives in southern California within scent of the ocean with her husband, where she writes and edits, immerses herself in story (books and TV), works on their 1911 Craftsman-style bungalow, and goes to as many Styx shows as she possibly can (the number strangely keeps pace with the number of short stories she's sold).
—
*Old-school printing, back in the day when rocks were soft.