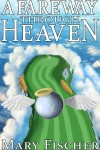 Posted on Jan 16, 2017 in
Blog
,
Featured Story
|
Comments Off on New Author release!
Lucky Bat is pleased to welcome Mary Fischer and Fareway to Heaven to the fold!
Perseverance and patience have delivered a thought-provoking, humorous tale that delves into what happens when we leave this life behind. Mary's down-to-earth storytelling leads the reader down a path that many have often wondered about. Follow Tom as he wanders through the Great Beyond and finds out just how much affect he's had on other lives.