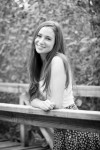 Posted on Mar 14, 2016 in
Fiction
,
Lucky Bat Authors
,
New Voices
|
Comments Off on Callista O'Brien
Callista O'Brien started writing The Other World in the eighth grade after a dream inspired her. Now, four years later, her dream is becoming a reality. This is her debut novel and, hopefully, the first of many. When she isn't writing, she is usually in school or reading one of the books that made her want to become a writer in the first place. She lives in Reno, Nevada, with her family and a sassy cat named Percy. Find out more about her at CallistaOBrienAuthor.com.
The Other World is available in print and ebook.