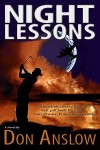 Posted on Feb 5, 2016 in
Blog
,
Featured Story
,
Fiction
,
Lucky Bat Authors
,
Lucky Bat Books
,
New Voices
|
Comments Off on Lucky Bat welcomes a strong, new voice!
When the moon is full and coyotes howl, the game of golf becomes intricately woven with a sparkling thread of magic. But is winning worth the price? Find the answer in Don Anslow's epic novel about gambling and relationships, love and betrayal, flying and, of course, golf! Night Lessons has it all!
Available in both print and ebook from major etailers.
Cover design: Brandon Swann
Managing Editor: Louisa Swann