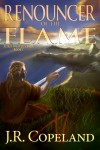 Posted on Oct 12, 2015 in
Blog
,
Featured Story
,
Fiction
,
Lucky Bat Authors
,
New Voices
|
Comments Off on Lucky Bat welcomes new fantasy author J. R. Copeland!
Intriguing characters and intense action carry the reader on a journey through the land of Endryo where magic whispers in the wind while dragons slumber.  In Renouncer of the Flame, J. R. Copeland introduces a world the reader will want to return to again and again. From wind-weaving pirates to fire-wielding princes, Copeland promises a world of adventure and does not disappoint!
Cover design by Brandon Swann.
Managing editor: Louisa Swann