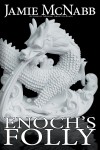 Posted on Oct 4, 2015 in
Blog
,
Featured Story
,
Fiction
,
Lucky Bat Authors
,
New Voices
|
Comments Off on Lucky Bat is thrilled to welcome author Jamie McNabb aboard!
From eccentric neighbors to irascible river dragons, Enoch's Folly is guaranteed to entertain and surprise!
Never one to hide from humanity's foibles, Jamie McNabb interweaves humor and suspense through this new novel, using his sailing and construction experience to craft a tale with thrilling surges and terrifying eddies that will keep you reading long into the night. Now available in both print and ebook!
Cover design by Brandon Swann
Managing Editor: Louisa Swann