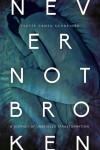 Posted on Jul 6, 2014 in
Lucky Bat Authors
,
Nonfiction
|
Comments Off on Never Not Broken released in Print!
In Never Not Broken, Yvette Cantu Schneider descends into the abyss of her own psyche after her young daughter's leukemia diagnosis. Desperate for relief from ceaseless panic, she sees a psychotherapist who introduces her to guided imagery meditation to heal trauma. Over the course of her daughter's 28-month treatment, Cantu Schneider encounters in meditation, animals, goddesses and other guides who show her that it is the wounded feminine within her that pushed her to find meaning and acceptance in a rigid religious structure and to become a spokesperson for controversial socio-political causes.
As Cantu Schneider struggles to heal from difficult events from her childhood, the abuses and hypocrisies of religious leaders, and the effects of her own denial of the feminine divine, she discovers her true self. In the end, she finds that life's healing power is that we are all never not broken.