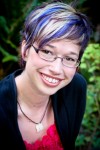 Posted on Dec 20, 2013 in
Blog
,
Lucky Bat Books
|
Comments Off on Meet Managing Editor Sarah Katreen Hoggatt
Today is our day to extend a big hearty welcome to Sarah Katreen Hoggat, as she joins the managing editor team at Lucky Bat Books. Sarah, a Salem, Oregon editor and publisher, has been working with Lucky Bat Books on projects already, so you may have already been in touch with her. She'll still be designing books and copy-editing and doing all the things she does so well, but now she will be shepherding books, too, working directly with authors, and helping writers make the hundred-plus decisions that go into publishing every book. She's experienced and talented. We are excited to welcome her to the Lucky Bat Books team!
Read more about Sarah Hoggatt here. And see more about Sarah on our Facebook page.