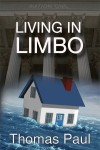 Posted on Oct 16, 2013 in
Blog
,
Fiction
,
Lucky Bat Authors
|
Comments Off on Just published! Living in Limbo by Thomas Paul
When the major economic downturn affects the housing market in Reno, Nevada, Barry Joseph and his family find themselves facing difficult decisions. Constant attempts to communicate with their mortgage company fail time after time, forcing Barry to take unprecedented action.
Follow the Joseph family's struggle to survive in this modern-day David-versus-Goliath parable as their struggles amid the nation's housing crisis drive the family to the brink of disaster.

Thomas Paul grew up in Iowa and Minnesota. He is a graduate of Minnesota State University of Mankato and has worked several years in marketing and television advertising. Paul currently lives in northern Nevada with his family, where he enjoys wine tasting, hiking, golfing and following his favorite sports teams. Find out more at www.thomaspaulbooks.com
Print & Ebook
2013
Published by Lucky Bat Books, with Managing Editor Louisa Swann