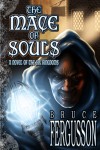 Posted on Aug 26, 2013 in
Blog
,
Featured Story
|
Comments Off on Mace of Souls – Now in Ebook
The Mace of Souls, second book in the Six Kingdoms series by Bruce Fergusson, is published in ebook and available in online retailers.  Look for the third book, never before published, soon. In The Mace of Souls, Fergusson tells the story of wealthy, high-born Amala Damarr, who was supposed to be the means for Falca Breks—a roughneck, thief, and extortionist—to fulfill his long-held dream of escaping the decaying port city of his birth. And so she proved to be, but not in the way he planned on—because leaving the dismal, dangerous streets and alleys of Draica included a price he never thought existed: two souls worth saving…and Falca Breks was about to discover that one of them was his own.
Read more about author Bruce Fergusson and his other books here.