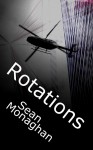 Posted on Oct 5, 2011 in
Fiction
,
Lucky Bat Authors
,
Recent Books
|
Comments Off on Sean Monaghan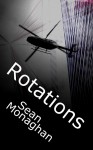 Rotations
Daniel Davenport has the unique ability to rotate himself to an alternate world. He's kept the ability hidden, but not well enough. Forces are threatening his family, determined to learn how he does it. Daniel is forced to risk it all to help them, but along the way learns his ability might not be so unique after all.
Author Sean Monaghan has had more than one hundred stories published in the U.S., the U.K., Australia, and in New Zealand, where he makes his home. A collection of his flash fiction stories appeared in 2010 from Lame Goat Press. When he is not writing, Sean tutors in creative writing and works in a busy public library. His website is seanmonaghan.com.