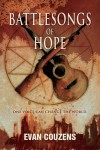 Posted on Sep 5, 2011 in
Fiction
,
Lucky Bat Authors
,
Recent Books
|
Comments Off on Evan Couzens
Author of Battlesongs of Hope
Jacob Vogel considers himself one of the few decent men left in the world. During the riots following the ruling Wizards' downfall, he tried to provide for those close to him through his work as a mechanic. But the chaos kept spreading, and his skills with machines couldn't keep the violence at bay; he watched his sister's murder and killed his best friend with his own hand. The years of brutality finally broke him and drove him from the ruined Wizards' city. The hinterlands are a new world and offer a chance to build a new life. He finds peace, compassion, even love.  But the city's corruption has spread farther than he could have imagined.

When the Wizards' legacy returns to enslave humanity, Jacob has a choice. He can run, abandon his family to their fate, and acquiesce to the world's depravity like he has so many times before. Or he can face his past, discover the power of redemption, and wield the human spirit as the only hope against tyranny.
About the Author, Evan Couzens
Evan Couzens graduated from Eastern Illinois University with an English degree and a mission to write stories that rock faces. He likes listening to hardcore/progressive music, lifting weights, and eating sushi. You can find him at various pool halls and local scene concerts in the Chicago area, and online on his website. Visit often.